Overview 
The Denver Park Trust, in partnership with residents of the Villa Park neighborhood, veterans groups, Medal of Honor supporters, Councilwoman Jamie Torres' Office, Denver Parks and Recreation, and Denver Art & Venues, is fundraising for a lasting tribute honoring Private Martinez in Joseph P. Martinez Park in West Denver.
The "Why"
Private Martinez was the first Latino and Coloradan to be awarded the Medal of Honor in World War II.
Joe P. Martinez was born in Taos, New Mexico on July 27, 1920 and raised in Ault, Colorado. He was an Army Soldier who received the Medal of Honor—the United States' highest military decoration—for combat actions that cost him his life on the Aleutian Islands in May 1943 during World War II. His posthumous award was the first Medal of Honor awarded for actions on the North American continent since 1898.
In 1966, the City and County of Denver named an 11 acre park in the Villa Park neighborhood in his honor.
The Vision
In 2020, a new master plan to revitalize Joseph P. Martinez Park was created. Through the community engagement process, it was determined that a new, enduring tribute to Private Martinez should be incorporated into the design and construction of the park.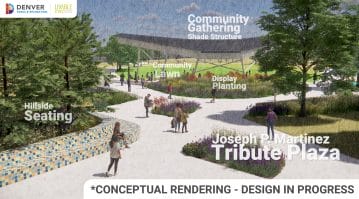 The tribute will provide young and old, neighbors and victors, with an opportunity to learn more about Private Martinez's life and legacy as well as veterans with a connection to Denver and Colorado, Latino veterans, and recipients of the Congressional Medal of Honor.
The Goal
The Denver Park Trust and its partners are working to raise $225,000 for a tribute to Private Martinez. This amount will be used pay an artist, selected through a competitive process, to design, create, and construct a unique and long-lasting tribute.
The Private Martinez Tribute project secured a commitment of $70,000 in funding from Denver Arts & Venues and Denver Parks and Recreation as part of the City of Denver's 1% art program.
Additionally, 723 individuals contributed more that $19,000 after learning about Private Martinez and the future tribute through the Word of Thanks segment that ran on Next with Kyle Clark on May 24, 2023.
Most recently, three donors invested a total of $25,000 bringing the amount raised to $115,600 and more than halfway to the goal. Click here to make a donation.
Private Joe P. Martinez Biography
Private Joe P. Martinez was born in Taos, New Mexico on July 27, 1920. Joe was one of seven children born to José Manuel Martinez and María Eduvigen Romo. In 1927, the family moved to Ault, Colorado. There, he received his primary and secondary education.
In August 1942, Joe was drafted into the United States Army and sent to Camp Roberts, California for basic training. After completing basic training, he was assigned to Company K, 32nd Infantry Regiment, 7th Infantry Division. In April 1943, the Division departed San Francisco to dislodge Japanese forces occupying the Aleutians, a chain of islands extending from Alaska into the Bering Sea.
One month later, the Division landed in dense fog at Holtz Bay on Attu Island. Initially successful, the attack stalled facing an escalating series of snowy, fortified trenches. Ignoring intense machine gun and mortar fire, Pvt. Martinez stood and hollered, "Follow me!" Martinez arduously climbed upward toward Holtz-Chichogof Pass, rising 150 feet from the rocky beach. Pvt. Martinez led the troops on and up, personally silencing several trenches with his Browning Automatic Rifle. Just below the knifelike rim of the pass, he encountered a final enemy occupied trench. As he fired into it, he was mortally wounded.
The pass, however, was taken. Its capture resulted in the end of organized enemy resistance on Attu Island. For his conspicuous gallantry and intrepidity above and beyond the call of duty, Pvt. Joe P. Martinez was awarded the Congressional Medal of Honor, our Nation's highest combat honor. He was buried with full military honors in Ault, Colorado.
Stakeholders
• Jose Aguayo, Author and Member of the Mile Hi Veterans
• Jaime Aguilar, President, Villa Park Neighborhood Association
• Rudi Cerri, Public Art Administrator, Denver Arts & Venues
• Thalia (Tay) Considine, President, Considine Family Foundation
• Deana Gallegos, Chair of the Veterans Committee, Mile Hi Veterans
• Deke Letson, Executive Director, Veterans Expeditions Therapy
• Emanuel Martinez, Muralist, Sculptor, Painter
• Al Muniz, Board Member, Mile Hi Veterans
• Jerry Rael, Member of the Mile Hi Veterans
• Gordon Robertson, Director, Planning Design & Construction, Denver Parks and Recreation
• Ed Romero, Member of the Mile Hi Veterans
• Paul Shamon, Innovator & Director, General Rose Monument
• Councilwoman Jamie Torres, President, Denver City Council
• Meredith Wenskoski, President, Livable Cities Studio