September 30, 2021 | Issue 005: In Our Parks Newsletter
The Denver Park Trust, in partnership with Denver Parks and Recreation and Game Plan for a Healthy City, is bringing you a newsletter featuring stories, surveys, events and more in and about Denver's parks.
Discover your parks.
Scoop the Poop! Four Reasons why you Should Clean up after your Dog.
By: Denver Parks and Recreation
Denver is considered a dog-friendly city. It's one of the reasons so many of us love living here. From pet-friendly hotels and restaurants to a plethora of dog parks around the city, many people treasure taking their dogs just about anywhere. Along with this doggie roaming freedom comes one of the biggest challenges facing Denver's public parks and recreation spaces today — getting people to clean up properly after their dogs.
According to the Environmental Protection Agency, animal waste is one of the many seemingly small sources of pollution that can add up to big problems for water quality, and even human health. When dog waste is left behind, not only is it unsightly and leaves an overwhelming smell, but it can also leave excessive amounts of bacteria, parasites and nitrates that disrupt outdoor ecosystems. The best way to make sure that our park habitats and natural wildlife stay healthy is by encouraging all pet owners to pick up after their dogs and properly dispose of the waste, ideally in biodegradable bag, and then in a trash can or at a designated pet waste station. Read on for four reasons why it's important to pick up your dog waste:
Dog poop is not natural. It is rational to think that poop is natural because we often see wildlife droppings outside. Wild animals eat nutrients from their existing ecosystem, so they are simply returning what is already there. Dogs, on the other hand, eat pet foods specifically designed to ensure a healthy diet. These pet foods can cause their poop to contain excessive amounts of bacteria and nitrates that can upset the delicate balance of an existing outdoor ecosystem.
Dog poop does not decompose. Dog waste will not fully break down on its own. It is logical to think that dog waste is compostable, but before dog feces fully decomposes, it will get washed over by rainwater, causing it to get into land and water systems where it releases harmful nutrients that cause excessive growth of algae in lakes, streams and rivers. This type of pollution negatively impacts wildlife and humans.
Dog poop contains disease causing bacteria and parasites. Dog waste contains bacteria and parasites that can contaminate water and soil and also be harmful to humans. Even if your dog does not show symptoms of being sick, their waste can carry diseases that are harmful to other animals and humans. Salmonella, E.coli and roundworms are a few of the diseases that can be found in dog poop.
It's your doody to pick up after your dog. Let's face it,picking up after your dog is not only common courtesy, but it is your responsibility. When you plan to be out and about with your dog, be prepared to clean up after them. Bring a bag with you. While you can reuse plastic grocery bags, a more environmentally friendly option is a biodegradable bag made specifically for the job and available at many pet retailers. Also, avoid letting your dog poop within 200 feet of a body of water and do not throw dog poop into a storm drain.
Picking up your dog's poop may not be your favorite chore, but it's an important one that helps keep our parks and outdoor spaces, along with our community and pets safe.

Denver Parks and Recreation's Resiliency Program Improves Natural Resources
Maintaining and improving the city of Denver's natural resources such as water, open spaces, wildlife, trees and vegetation in the face of climate change and a growing population is critical. To help support these efforts, Denver Parks and Recreation (DPR) has launched a new Resiliency Program, as part of Game Plan for a Healthy City. The goal of this program is to create a more resilient park system – one that will be with us for generations to come.
The resiliency team is working with various local and state partners that also have a vested interest in protecting Denver's natural resources. The Department of Transportation and Infrastructure (DOTI); Denver Department of Public Health & Environment (DDPHE); Office of Climate Action, Sustainability and Resiliency (CASR); Denver Water and the Mile High Flood District are working together to implement strategies that holistically address the impact of a changing climate on our natural resources by focusing on water conservation, management of lakes and streams and expanding pollinator gardens throughout the DPR system.
Water Conservation
Denver has just over 6,300 acres of urban parks, parkways, golf courses, and greenways and approximately 3,800 of them are irrigated, making water conservation extremely important. "We know that water is a limited resource, and this means that we must use our water supply wisely and care for it properly," said Happy Haynes, Executive Director, DPR. DPR engages in drought preparedness planning, water usage billing and reporting, water conservation plan review, irrigation standards management, and research and implementation of new technologies that help manage our water efforts – all to help conserve this important natural resource. DPR has a dedicated water conservation crew pursuing and implementing irrigation water efficiencies throughout our park system.
Steps are also being taken directly at DPR parks, like converting underutilized bluegrass to a more native, drought tolerant landscape that will help reduce irrigation needs, restore wildlife habitat and promote pollinator habitat. Denver Water and the DPR Water Conservation Program also partner closely to help with staff training, alternative water source studies and improving the understanding of plant/water/soil relationships through horticultural efforts at the City Park Greenhouse.
Lake & Stream Management
The resiliency team, in coordination with the Mile High Flood District and DOTI's Wastewater Division and Office of Green Infrastructure, is leading floodplain management efforts that promote water quality while reducing the risk of flooding along Denver's waterways. "By implementing weed management, debris removal and limiting mowing between April and October in stream systems such as Cherry Creek, Lakewood Gulch and Weir Gulch, these efforts are leading to safer and more resilient communities," Haynes said. "While residents might have noticed taller grasses around waterways over the last three to five years due to reduced mowing, this approach allows more native vegetation to outgrow undesirable and invasive weeds." Taller grasses also provide structural integrity to streams by forming a protective barrier between flowing water and soil during storm events, reducing damage to bridges, properties and parks. Lakes within the DPR system are also being improved by converting shorelines to wetland and riparian edges to prevent erosion, create aquatic habitat and improve water quality.
Landscape Typologies
Historically, Denver's landscape consisted of native, arid prairie and shrubland habitats lined by green waterways that flowed from the state's headwaters. Throughout the years, most of these native landscapes have been replaced by resource intensive bluegrass lawns driven by urbanization. DPR is looking at opportunities to convert a portion of the city's park landscapes from high-water turf to more native landscapes that provide more biodiversity to the overall park system.
As part of its resiliency program, DPR is committed to providing resilient and aesthetically pleasing places for people to participate in both active and passive recreation. DPR will continue to restore native ecosystems that enhance the health of the park system by implementing practices that are water-smart and help improve the health of local rivers and streams. "DPR and Mile High Flood District have developed a new, holistic and data-driven management approach, The Landscape Typology, which helps evaluate the different landscape types within a park, as well as the whole park system, to streamline maintenance schedules, irrigation needs, restoration projects, and other activities that help keep Denver's parks and open spaces vibrant," said Cincere Eades, Parks Resiliency Principle Planner, DPR.
Native Pollinators
Pollinator species, which are tremendously helpful to maintaining a healthy ecosystem, have seen an immense decline over the last decade. The Environmental Protection Agency (EPA) has attributed this loss to increased exposure to pests, loss of foraging habitats, pesticides and lack of biodiversity.
DPR is increasing the amount of pollinator habitat throughout Denver by adding perennials and important food and habitat sources for pollinators citywide. The City Park Greenhouse and park operations staff lead the designs of perennial and annual beds throughout the park systems. New and retrofitted flower beds have been installed in in Northfield Ponds, the Central Park Water Conservation Garden, Cesar Chavez Park, along 7th Avenue Parkway and the 23rd Avenue Greenhouse Garden, to name a few. "The types of gardens being introduced vary in design and structure to suit the many different types of pollinators that can be found in Denver, such as wild bees, ants, beetles, wasps, moths, butterflies, bats, birds and even lizards," said Julie Lehman, Greenhouse & Horticultural Manager.
Resiliency Youth Program
These resiliency efforts were supported by a $456,646 resilient communities grant from Great Outdoors Colorado (GOCO) that created the new Resiliency Youth Program to support resiliency-orientated projects in Denver parks. Over the summer, DPR worked with Team Works, Groundwork Denver, Mile High Youth Corps, and Lincoln Hills Cares, to increase skills in environmental stewardship for Denver youth. Teams of youth crew members addressed a variety of issues at parks, including noxious weed removal, erosion control, trash removal, ecological surveys, revegetation and more.
"Caring for and supporting Denver's environment today is fundamental to the future of our city," Haynes said.  "From protecting water resources to restoring native landscapes to increasing pollinator habitats – the sustainability of our parks and recreation areas plays a critical role in building climate-resilient communities."

Explore the 39th Ave. Greenway
Frank Rowe, Executive Director of the Denver Park Trust
Along with election day and Thanksgiving, November 2021 will be marked by the first anniversary of the 39th Ave. Greenway, a 12-acre park and trail stretching 15 blocks from Steele St. to Franklin St. through the Clayton and Cole neighborhoods along an open channel created to manage stormwater runoff.
Anchored on both ends by natural playgrounds, pergolas and picnic seating, the trail accommodates walkers and bikers through an industrial area on the east to a community of both historic homes and new lofts at roughly the point where Cole meets RiNo. Park amenities and features dot the entire length of the greenway.
To experience this new park up close allocate 20-25 minutes (one way) to stroll downstream beginning at Bruce Randolph school campus near 39th Ave and Steele St. From the natural playground you'll have a nice view west down the greenway and a couple of interesting interpretive signs to read, one highlighting the history of the Clayton neighborhood and a second detailing how trash is captured from drain pipes as the stormwater enters the open channel.
Walking west, past an outdoor classroom that is connected to the school, you'll see that the trail has lighting for night use, plenty of trash receptacles, and numerous spots to sit for a moment. The trees along the trail are very young, so don't count on a lot of shade.
As you approach the underpass at York Street, note the wayfinding signs that provide direction to access points both north and south. Trails like this, when interconnected with bike lanes on city streets, provide bikers with safe recreational and commuter routes. Before heading under the bridge, take a peek at the interpretive sign to learn how this section of the trail, once home to the Denver Medial Depot, has evolved over the years.
As you wander further, take a minute to think about this part of the city back in the day. The open channel greenway runs roughly along the path of the former Montclair Creek, a natural waterway that once helped provide the huge Montclair Basin with drainage to the Platte River. In the early 1900's  the creek was built over and water had nowhere to go except into streets, basements, and a hodgepodge network of underground pipes.
Spearheaded and funded by the Department of Transportation and Infrastructure, the open channel replaced those old pipes with "green infrastructure" that allows for better control of stormwater and water quality. The greenway will relatively stay dry most of the time and will move water only during storms.
Moving along your view is now dominated by a very cool pedestrian bridge connecting High Street on either side of the greenway and the RiNo construction cranes off in the distance. Passing by the bridge, the entire area opens up to the natural playground on the right and a plaza to the left. Access to the channel is enhanced with rock structure and gardens for community and pollinator use are close by.
The trail and the open channel end at Franklin Street where another plaza, swings, seating area and two murals of John's – Congressman John Lewis and singer-songwriter John Prine – await. There's also a very cool view of the outfall where the stormwater from the channel enters pipes that will carry it to Globeville Landing Park and on into the Platte River.
By all accounts  the 39th Ave. Greenway's first year has been a success. Together, the Department of Transportation and Infrastructure and Denver Parks and Recreation have created a win-win with a welcoming greenway providing active and passive recreational areas alongside relief from flooding and environmentally friendly stormwater management. Be sure to visit soon.
Also in this edition…
Denver has over 250 parks within its city limits, all of which are managed and maintained by Denver Parks and Recreation. Each park offers something different: from pickle ball courts to river trails—there's a wide variety of park amenities you may not even know about. Denver Parks and Recreation's interactive park map lets you search for specific park amenities like skate parks, sand volleyball courts, rec centers, swimming pools and more, and shows you every Denver park that matches your search criteria. This is a great way to explore parks you may be unfamiliar with. Give it a try with the button below
Help Spread the Word About the Great Things Happening in Our Community  
Now more than ever, our parks and outdoor spaces are not only fundamental to our health and wellness, but also to the future and resiliency of our city. We'd like to ask our community partners for help. Can you help spread the word about the work Denver Parks & Recreation is doing for creating parks, gathering places and activities in every neighborhood that are easily accessible, well-maintained and equitable through Game Plan for a Healthy City?
To share these messages, simply download DPR's social toolkit. This toolkit provides social assets, sample posts and blog/newsletter content. Feel free to edit as you see fit to match your organization's feeds. Please tag @denverparksrec on Facebook and Instagram when you post.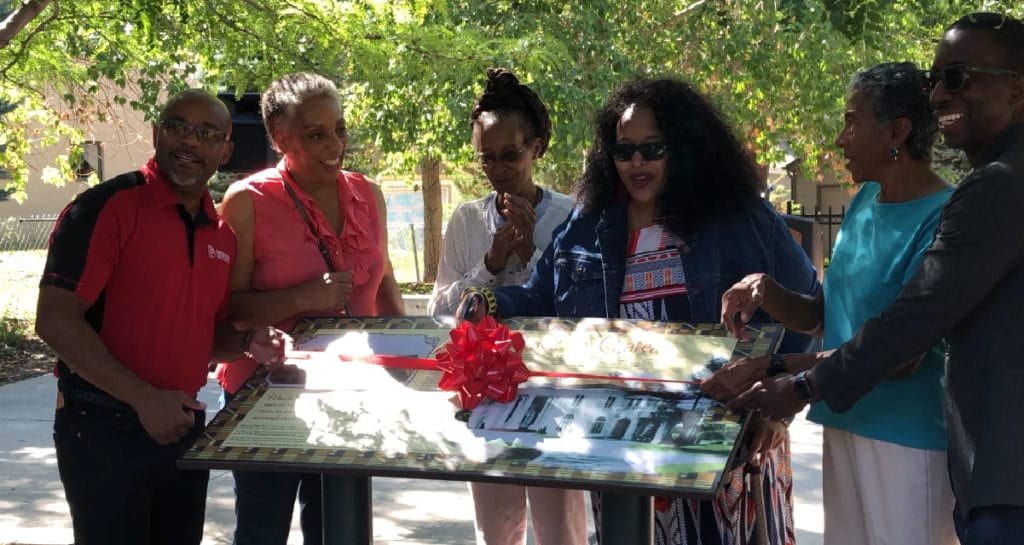 A Look Back at Madam C.J. Walker Park and the Unveiling of the new Interpretive Signs
This past year, The Denver Park Trust and The Madam C.J. Walker Park Coalition worked in partnership to repair and improve the interpretive signs at Madam C.J. Walker Park. The signs, previously in disrepair, remind Whittier residents and visitors of the important and lasting legacy of a Denver icon, and recognized figure in American history.
Madam C.J. Walker was a philanthropist, an entrepreneur, and the first self-made female millionaire, Black or white, in the country—and her business was started right here in Denver. She believed in the economic empowerment of African Americans, and worked to inspire and guide many generations of Black men and women to build businesses of their own. The Madame C.J. Walker Park Coalition is composed of over twenty Whittier residents committed to maintaining a lasting tribute to this historic and important figure in Denver and American history. The Denver Park Trust granted the final $5,000 needed to repair the signs at Madam C.J. Walker Park. And two weekends ago, on Saturday, September 18th we celebrated the completion of this project alongside many Whittier residents, Mayor Michael B. Hancock, Denver Parks and Recreation Executive Director Happy Haynes, the Denver Municipal Band and more.
the Denver Park Trust Shop
The Denver Park Trust Shop is now officially open. We worked with the Denver Public Library to bring you these exclusive shirts featuring the original maps of some of Denver's most iconic parks. All purchases go toward improving and growing the Denver park system.